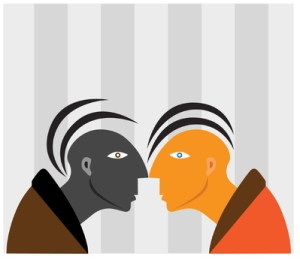 Everyday each of us are unconsciously drawn into "battles" by the "stories" that we have written about our lives.  If we feel we are misunderstood or unappreciated, our ego will continually be on the lookout to prove this to us.  We may perceive a small action by someone as an opportunity to "engage" him or her and demand they give us the respect we are due.
The Shaman knows that one can make a conscious choice that will empower you rather then disempower you.  This choice will change the way you engage with life, with your stories and with your relationships.  As the Shaman, when you practice changing the nature of the engagement you make a deliberate choice not to take part in these "battles".  You make a deliberate and conscious choice not to be pulled into drama that others create or that you might even create.
When you practice non-engagement you make the conscious choice to allow the action to pass and not make it about yourself.   In my own life, as I began to be the observer, I noticed how family members would try to pull me into some kind of drama and in doing so I was giving over to them my own personal power.  As the Shaman and courageous luminous warrior I saw this as an opportunity to fight the true adversary, my wounded self and reflect on what I was projecting outward.
In most any "engagement" we unconsciously act from a place of one of three roles  – The Victim, The Perpetrator/Persecutor/Bully, or The Rescuer.  These are the roles that we create for ourselves in our stories.  These three roles form what is known as the "Triangle of Disempowerment".
As we play out the "stories" in our life we are always acting out one of these roles, even switching characters as the stories play out.  However, we can empower ourselves by learning to recognize the role and change the nature of our engagement in the story.  When we disengage from self-limiting roles of being the victim, bully or rescuer we become more empowered, healing ourselves along the way.
You can stop masquerading your judgment in these roles and the feelings you create from them.  From the empowered center you can more freely and consciously state your needs and ask to be heard and respected.  You no longer need to blame yourself or others and you can begin to practice forgiveness.  You are no longer dis-empowered; you are dynamically empowered.  You no longer are drawn into others battles, you no longer feel the need to engage in the drama and it becomes easy to change the nature of the engagement to one that honors your truth and empowers you to move forward.
"When you come into balance and harmony then
all things around you come into balance"